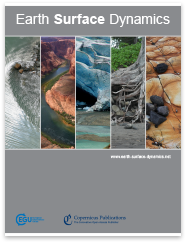 Editors: Niels Hovius, Douglas Jerolmack, Andreas Lang, Heather Viles & A. Joshua West
Earth Surface Dynamics (ESurf) is a not-for-profit international scientific journal dedicated to the publication and discussion of high-quality research on the physical, chemical, and biological processes shaping Earth's surface and their interactions on all scales.
The main subject areas of ESurf comprise field measurements, remote sensing, and experimental and numerical modelling of Earth surface processes, and their interactions with the lithosphere, biosphere, atmosphere, hydrosphere, and pedosphere. ESurf prioritizes studies with general implications for Earth surface science and especially values contributions that straddle discipline boundaries, enhance theory–observation feedback, and/or apply basic principles from physics, chemistry, or biology.
Dear colleagues, due to the current coronavirus situation, we are experiencing unusual challenges and delays in manuscript handling and reviewing, for which we would like to ask for your understanding.
For authors revising papers we also appreciate that there may be delays in responding – if this generates any issues please get in touch with the editorial team – we are very happy to help.
Many thanks and best wishes, the ESurf executive editors on behalf of the editorial board